Is your business not showing as a result in Google search? No matter how many keyword variations you try, or even, searching for your business by brand name, are you still not seeing your website appear?
One of the main reasons this is happening is due to not claiming your company in Google My Business. It's a free tool provided by Google, which helps manage your website's presence on Google search and Google Maps.
Why Is It Important to Claim Your Business Profile on Google?
According to a recent survey, Google is one of the top-rated review platforms that users flock to for credible business reviews. In over 54% of cases, Google reviews influence whether the user visits and or conducts business with the company within merely 48 hours.
This is why it is imperative to claim your business on Google, set up your business profile, and reply to reviews that are left by your existing or previous customers.
How to Claim Your Business in Google
By claiming your business in Google, you are validating that you are in fact the owner of the business. If your business is already displaying in Google as claimed, please scroll to the next section of our blog where we discuss what to do if someone has already claimed your business on Google.
In order to claim your business on Google, simply follow these steps.
STEP 1: TELLING GOOGLE YOUR BUSINESS EXISTS
Start by claiming your business (as image 1A below). OR create a new account within Google My Business and enter your business's information (as image 1B below):
STEP 2: ADDING YOUR LEGAL BUSINESS NAME
It's important to be consistent with how you list your business's name in Google, e.g. adding an LLC component, abbreviations, capitalizations, and more. It's best to go by the legal name of your business and remain unchanging no matter where your company is listed online.
If you consider investing in local SEO, you will see how search engine crawl bots will identify inconsistent listings of your business name on website directories other than Google. Those that don't coincide with how you list your full, legal business name on GMB, put your potential customers at risk of confusion.
In the example below, Image 2A, the business name states Jerry's Ice Cream. However, what if the legal business name was Jerry's Ice Cream Emporium. Potential customers may be curious if there are two separate businesses and not one and the same.
STEP 3: CHOOSING CATEGORIES FOR YOUR BUSINESS
There are endless category options and service areas available for your business on Google My Business profile. Be sure to choose service buckets that are most applicable to your business, seen in image 3A below:
STEP 4: ADDING YOUR PHYSICAL ADDRESS ON GOOGLE MAPS
Whether you have a physical location for your business or not, Google needs to know. If you do have a physical location, once you enter in your address, you must mark the location on Google Maps, as detailed in images 4A-4C below:
STEP 5: ADDING YOUR VERIFICATION CODE TO PUBLISH YOUR GOOGLE BUSINESS PROFILE
After completing steps 1-4, a verification code will be mailed to your business location via postcard. According to Google, most postcards should arrive within 14 days or sooner. Once you receive this verification code, you will need to log back into your Google My Business account and click, verify now (as seen below in image 5A) and enter the code on the postcard.
From here, you can begin optimizing your local listing, updating business hours, and adding more information for those who come across your business profile in Google's search engine.
If someone has already claimed your business, it's quite easy to let Google know.
Has Someone Else Verified your Google My Business Listing?
This is extremely common. For example, if someone else has claimed your business listing, you may notice that the business hours listed don't align with your actual store hours. Or perhaps there are other errors, such as nonexistent business services, products, or maybe your phone number is incorrect.
No matter, if you clearly know that you haven't claimed your business listing, and someone else has, Google, thankfully, gives you the option to report the mis-claimed listing:
It may take some time for Google to receive your request and put the business listing profile under review, so in the event, they take too much time, reach out directly to Google Support.
Optimizing Your Google My Business Profile
After claiming your business in Google, you gain access to a dashboard for your business. Here you can update your store hours, add blog or event posts, and respond to customer reviews, as seen in the image below:
Additionally, you're able to highlight specific attributes to your business, which will then display on your profile in Google: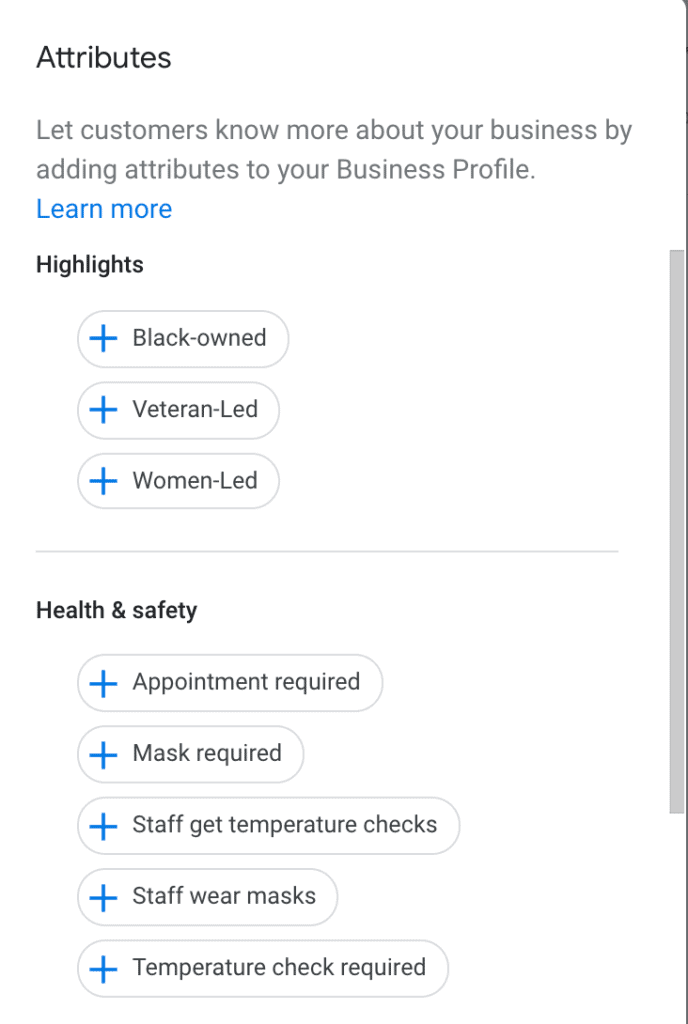 How to Get Reviews in Google My Business
In order to enhance your local rankings, it helps to collect reviews in Google. There are a few easy ways to do this:
Kindly ask your customers to leave you a review on Google by providing the link to your GMB profile, either within your website footer or contact page.
Encourage your staff to ask for Google reviews after conducting business directly with a client or customer.
Create an email marketing campaign to send requests out to your customer lists. Be careful to not inundate your customers with review requests; overwhelming customers can have the opposite effect and turn them away entirely.
Simply be kind to your customers, which may naturally entice them to leave a review of your business on Google.
These review solicitation ideas, however, do not include purchasing reviews or exchanging products for five-star reviews. Why? Because you could be at risk for penalties or getting your website removed from Google for good.
Why Buying Reviews Hurts Your Business
Google has started to catch on to companies that are actively purchasing fake reviews. This fraudulent approach to bettering a company's online reputation is a dark, unnatural digital marketing practice that can have legal consequences.
Although there needs to be quite a bit of evidence to suggest the reviews are fake, other review websites are starting to punish companies that offer review-buying services by taking them to court.
What happens if your company purchases reviews and is penalized by Google for doing so? Keep in mind that not only do your customers immediately lose trust with your brand, but it becomes even more difficult to rebuild a reputation that has been damaged.
Interested in Learning More About Your Website's Reputation in Google?
Our team of content and search engine optimization specialists is qualified and passionate about bettering your company's presence in search engine page results. We're happy to provide local SEO services in order to help you through the beginning stages of claiming your website on Google.